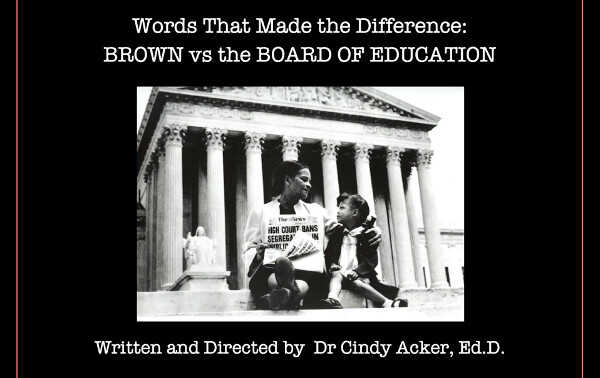 Words That Made the Difference: Brown vs. Board of Education
by Dr. Cindy Acker
When: 4:30 PM on Sunday, June 12, 2022  (Note: The play is being staged on June 12 to honor Juneteenth while avoiding any conflict with the Juneteenth Festival in Marin City on June 19.) The play is one hour and 45 minutes long and will be followed by a Q&A session led by playwright and director Cindy Acker.
Where:  Dunphy Park, Sausalito (See map below) will be the site of an outdoor production of the play Words That Made the Difference: Brown vs. Board of Education, by Dr. Cindy Acker. Chairs will be available in front of the temporary stage in Dunphy Park. Lawn seating will also be available.
Cost: Free
Sponsored by: The City of Sausalito, with the Sausalito Marin City School District, Friends of the Sausalito Library, and Friends of the Marin City Library.
The Author: Dr. Cindy Acker, Ed.D. is an international racial and social justice consultant and the founder of the Montessori Elementary Intermediate School of Alameda. Among her several degrees is a doctorate in Educational Leadership from UC Berkeley. This month, she will be presented with the 2022 Diversity, Equity, and Inclusion Award from the Alameda Chamber of Commerce. You can learn more about Words That Made the Difference by clicking here.
Why: Juneteenth is the holiday that recognizes the actual implementation of the end of slavery in the United States. On June 19, 1865, Union forces arrived in the Gulf Coast city of Galveston, Texas, one of the last places where the Emancipation Proclamation that freed all slaves in 1863 had not yet been announced and enforced. Their arrival effectively ended the last major enclave for the enslavement of people in the United States.
Words That Made the Difference is based on actual historical events in the fight to end school segregation in the United States. The story takes place in courtrooms across the U.S. after World War II, and depicts the actual arguments in the cases that led to the Supreme Court's historic 1954 ruling in Brown vs. Board of Education that "separate but equal" was not equal in the schools of Topeka, KS or anywhere else, and ordering school desegregation.
Ultimately President Eisenhower used the National Guard in Little Rock, Arkansas and other cities to enforce the Court's order in the late 1950s and early 1960s. A wonderful historical novel of that time, written by an historian who grew up amid these events, is South of Little Rock, by George Rollie Adams.